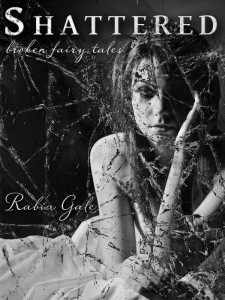 I'm VERY excited to have Rabia Gale visiting today. Rabia's a fantastic writer, and I've been lucky to know her as a friend and writing buddy for… um… well it'd be a few years now. Rabia, hon, how long have we been doing this?
Anyway, to celebrate the release of her short story collections Shattered: Broken Fairy Tales and Unseen, she agreed to visit and explain the whole fairy tales thing to me. She's also giving away a copy of Shattered which, trust me, you really want to read (Contest open until Sunday evening, 15th July – that's Aussie time, folks. I can't do different time zones, my brain just can't handle it…)
And so:
Why Fairy Tales?
When Jo first asked me to blog about why I fractured fairy tales, it felt akin to asking a potter why she worked with clay. After all, my very first novel attempt was based on The Twelve Dancing Princesses, reworked into a murder mystery set in a fantastical, alternate Europe. Fairy tales have inspired my fiction across many genres–steampunk, comedy, dystopian–and in many forms, from the abovementioned aborted novel to novellas, short stories, and flash fiction.
My retellings are an attempt to either fill in or crack open gaps in the conventional versions. Sometimes those gaps are in the story logic or in character motivation. At other times they are ideological gulfs between the present day and older times. For instance, I have always found Rapunzel to be passive and foolish—a most unsatisfactory character–so I reimagined her. My Rapunzel, a modified human in a post-apocalyptic world, is a pawn in a power game. She's not wasting her time in her tower, though. My Rapunzel has plans of her own, and she's very patient. I retell fairy tales primarily so that they make sense to me.
Or sometimes, I like to find the place where things could have gone wrong—and make them go wrong. In the original version, Prince Charming was lucky that no other woman fit the glass slipper until he got to Cinderella. But what if, in some darker telling, he had stumbled upon a woman with the same shoe size as his beloved? And what if she was only too happy to take Cinderella's place and go to great lengths to keep it?
I am able to share these retold stories because almost everyone knows the originals. Part of the fun of reading a revised fairy tale is seeing how the author reworks or subverts the original. And the fun of writing that retelling is doing something new and surprising with the story, while still retaining enough familiar elements so that readers will recognize the inspiration.
Interested in how I break fairy tales? Check out my free short story, Wired, a post-apocalyptic Rapunzel, on my site. Or tell me your favorite fairy tale retelling (book, movie, musical, show, etc.) in the comments and be entered to win a copy of my ebook, Shattered: Broken Fairy Tales.
Rabia Gale breaks fairy tales and fuses science fiction and fantasy. A native of Pakistan, she currently resides in Northern Virginia. Visit her online at http://www.rabiagale.com.