So, I should have done this ages ago. But if I'd got my act together and taken these photos earlier I wouldn't have been wearing my awesome Portal 2 shirt, and that would have been very very sad.
This would be me, then, with my very own copy of my very own book two!
UK and US versions side by side. I can't pick a favourite. They're both so purdy.
Then my photographer decided there wasn't enough light, and we had to do this outside. So here's my plaque for the AWHA short story competition, now with added view of the golfcourse!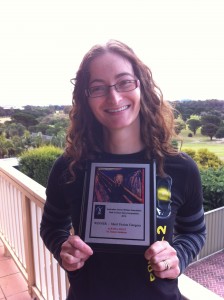 And this was all well and good until Chess wandered out onto the balcony. I don't trust this cat around heights. She doesn't have the coordination. Trust me.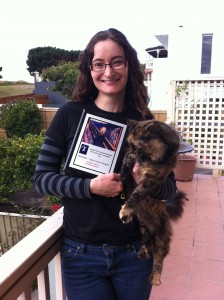 So there you have it! Proof that A) Chess does actually exist (this is often a point of some contention) B) I can carry a cat and award at the same time and B) Books! Awards! They're REAL!