Quick, guys, I need your help! A few days ago a bunch of my secondary characters ganged up on me because I hadn't interviewed them. You see, I've interviewed Tanyana before, and Lad. But not Mizra and Uzdal, or Natasha or Sofia. Or Kichlan (poor Kichlan). Or Devich. Or any of Tanyana's old circle of nine. Or the Keeper. Not even the Keeper!
They think I'm playing favourites, and I'm in trouble because I have no idea what else to ask!
So I need your help, and I'm willing to pay for it.
Send me questions! I'll make it easy — you can ask anyone* anything (even me!) and we'll do our best to answer. The best question gets a prize. Not just any prize. An EPIC prize.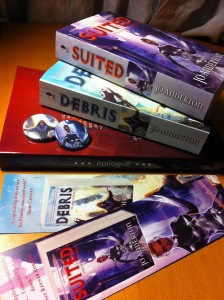 A copy of Debris (Signed of course!)
A copy of Suited (Signed!)
A copy of Epilogue (which contains 'A Memory Trapped in Light' a story set in the Debris universe, and is also a generally awesome anthology)
Bookmarks and badges! (Ain't they purdy?)
Leave your questions in the comments, or on Facebook, Livejournal, Goodreads or Twitter. No geo restrictions either. Go nuts!
You will help me, won't you? You don't want the invisible people in my brain to drive me completely insane, do you?
* Almost anyone. Don't go asking the Puppet Men, okay? Would YOU be willing to invite them over for a chat? No? Well neither am I!