So, I've been in Japan. It was wonderful brilliant epic beautiful and fantastic fun. There will be photos. Soon.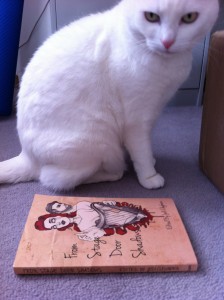 But a few things happened while I was away! Like, From Stage Door Shadows was launched. It was very exciting to come home to my very own copy (although Navi doesn't look very excited about it…)
Debris was made book of the month at Science-FictionShop.com, complete with accompanying interview!
Speaking of interviews, I also did one with Fantasy Faction in which we discuss fantasy, science fiction, anime, the class system in Movoc-under-Keeper, and much more!
Phew, what next?
A couple of reviews popped up. Mandy Wrangles wrote a nice one for Suited over at Marianne de Pierres' website:
"Suited doesn't suffer from Flat Middle Book Syndrome – while it can't stand alone without Debris, it moves the overall arc of the trilogy along at a great pace. If you enjoyed Debris and haven't yet got your hands on Suited – what are you waiting for?" 
And I absolutely love this short but awesome review of Debris at Richard's SF Ramblings. Anything with the title 'Jo Anderton is Smok'n Hot' has got to be good, right? 😉
Light Touch Paper, Stand Clear was very favourably reviewed in AurealisXPress. Sadly I can't post a link, but I can quote: " Joanne Anderton will wow them from the first word of her moving, melancholy, fantastical meditation on the irreparable horrors of conflict,  The Bone Chime Song."
And finally, I got to participate in a SF Mind Meld Holding out for a Hero.
And there we go. Maybe I should go away more often.