I've been in book-land for the past few weeks and terribly lax in my updating. So here goes:
A lovely review of Light Touch Paper, Stand Clear over at A Fantastical Librarian. Not only am I thrilled that she enjoyed 'The Bone Chime Song' but this bit made me go 'eep':
When I was approached about reviewing Light Touch Paper, Stand Clear, I'd just reviewed (and loved) Joanne Anderton's first two novels, so her name was the one that convinced me to accept the review request
Eeep.
For more Eeepery, Bloodstones from Ticonderoga is out! Now available through Amazon, and also up on Goodreads for your library-adding and star-giving pleasure. So far I've seen one awesome review from Jennifer Brozek:
 BLOODSTONES is a nice mix of emotion and the macabre and is a lovely, chilling read. Buy this anthology. You won't regret it.
Lovely of her to give Sanaa's Army a shout-out too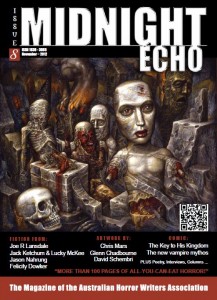 And finally, Midnight Echo 8 is also out, with my AHWA award winning short story, 'Always a Price' in it (and also lots of stories from lots of amazing horrorwriters!)
Seriously, check out that TOC. I'm lucky to be there with them!
And now I have to go collapse in a corner somewhere, because I finished the first draft of a book today. *DIES*