So look what turned up on my doorstep yesterday!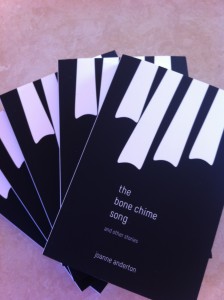 The Bone Chime Song and Other Stories is a book! A real book. And it looks fantastic in the papery flesh. And the cover has this nifty laminate that's kinda soft and squishy, so I have been totally patting them. Like a kitty.
You can still preorder them for a special price! If you want a kitty-book all of your very own 😀
Don't just take my word for it. Publisher's Weekly seemed to enjoy it!
More moving than terrifying, the collection explores the human condition with vigor and grace.
I kinda like that vigor and grace bit