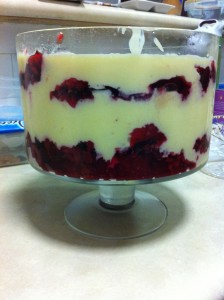 I know I'm a little behind with this post, but I've been waiting for the other shoe to drop…
Also, a very dear friend and I cooked and ate this trifle of death last night and I think I'm still suffering from the sugar-hangover.
Anyway, while I was eating this delicious monstrosity last night the Aurealis Awards finalists was announced. The list is amazing, so many awesome writers on there. Oh, and me.
The Bone Chime Song and Other Stories made the shortlist.
So did Mah Song and Fencelines, the two original short stories in the collection. (Mah Song is even on there twice…)
So did The Last Tiger, still live at Daily SF if you wanna check it out.
…That's all kinds of crazy! Crazy awesome, yes. But still crazy!
*stares at shoes and waits for them to drop*
The full list of finalists is here. CONGRATS to everybody, it's such an honour to be there with you. In particular my wonderful mentor Kaaron Warren, my darling scary-talented friend Thoraiya Dyer, and she-who-will-kick-my-arse Cat Sparks. So cool to see the Years Best from Ticonderoga, Focus 2012 and One Small Step from Fablecroft too!
Last year was a hard one for various reasons, and if I'm completely honest I had written it off. So to say I am surprised by  this is such a huge understatement.
Now excuse me while I go monitor those shoes…*shifty eyes*