Right, so the last time I tried to post this it totally killed my website O.o Fingers crossed peeps!
Guardian is out! It's real! And launched a couple of weeks ago now (damn you website issues) at the national sff convention, ContinuumX!
Many thanks to the wonderful Tansy Rayner Roberts who did such a lovely job with the launching. And to Tehani from FableCroft publishing, for believing enough to help me see this trilogy finished. (And thanks to Cat Sparks for the photos below!)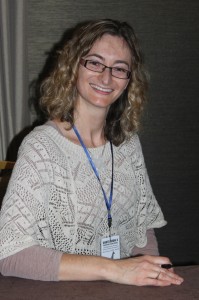 While we're discussing good news, I'm also pretty damned excited to announce that The Bone Chime Song and Other Stories has won the Australian Shadows award for best collected work!
The Australian Shadows are the annual literary awards presented by the AHWA and judged on the overall effect – the skill, delivery, and lasting resonance – of horror fiction written or edited by an Australian.
So that's pretty cool, isn't it. An Aurealis and a Shadows. The little collection that could!