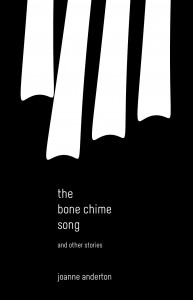 The Bone Chime Song and Other Stories
Enter a world where terrible secrets are hidden in a wind chime's song
Where crippled witches build magic from scrap
And the beautiful dead dance for eternity
The Bone Chime Song and Other Stories collects the finest science fiction and horror short stories from award-winning writer Joanne Anderton. From mechanical spells scavenging a derelict starship to outback zombies and floating gardens of bone, these stories blur the lines between genres. A mix of freakish horror, dark visions of the future and the just plain weird, Anderton's tales will draw you in – but never let you get comfortable.
Winner of the 2013 Aurealis Award for Best Collection!
Winner of the 2013 Australian Shadows Award for best collected work!
"The Bone Chime Song and other stories is a powerful and compelling debut collection from an author who is barely started on her journey and already producing work of incredible quality. I can't wait to see where she goes from here." – Thirteen O'Clock
"More moving than terrifying, the collection explores the human condition with vigor and grace" – Publisher's Weekly
"The Bone Chime Song and other stories is amazing short story collection, which even though it brings together stories from different genres, works so well on so many levels." – Upcoming4me
Contents
Introduction — Kaaron Warren
The Bone Chime Song 
Mah Song (original to the collection)
Shadow of Drought
Sanaa's Army
From the Dry Heart to the Sea
Always a Price
Out Hunting for Teeth
Death Masque 
Flowers in the shadow of the Garden 
A Memory Trapped in Light 
Trail of Dead 
Fence Lines (original to the collection)
Tied to the Waste
Published in May 2013 by Fablecroft Publishing.
Available in print from:
Fablecroft's website
Booktopia
Also available in several ebook formats from:
Amazon
Kobo
Wizard Tower Books
Weightless Books