Debris
Veiled Words, Book One
In a far future where technology is all but indistinguishable from magic, Tanyana is one of the elite. She can control pions, the building blocks of matter, shaping them into new forms using ritual gestures and techniques. The rewards are great, and she is one of most highly regarded people in the city. But that was before the "accident". Stripped of her powers, bound inside a bizarre powersuit, she finds herself cast down to the very lowest level of society. Powerless, penniless and scarred, Tanyana must adjust to a new life collecting "debris", the stuff left behind by pions. But as she tries to find who has done all of this to her, she also starts to realize that debris is more important than anyone could guess.
Published by Angry Robot Books.
Shortlisted for the Aurealis Award for Best Fantasy Novel
Chosen for the Locus Best First Novel of 2011 list
Shortlisted for the Ditmar award for Best Novel
"A compelling first novel."
– Locus
"Australian first-time novelist Anderton has created a refreshingly original and complex far-future society and uses Tanyana's fall, and subsequent investigation into who was behind it, to examine issues of privilege and poverty, loyalty and betrayal. The first book in The Veiled Worlds trilogy marks an accomplished debut."
– Eric Brown, The Guardian
"Anderton demonstrates a mastery of storytelling and world building in this series opener that is reminiscent of the visionary works of China Miéville. This accomplished debut novel should enjoy a wide readership."
– Library Journal
UK/Rest of World
October 2011, 464pp paperback
£7.99
ISBN 978 0 85766 153 1
US/Canada
October 2011, 464pp mass-market paperback
$7.99 US, $8.99 CAN
ISBN 978 0 85766 154 8
eBook – available here
October 2011
£4.49 / $5.99 ePub ISBN 978 0 85766 155 5
Read a couple of sample chapters here
Suited
Veiled Words, Book Two
Shortlisted for the Aurealis Award for Best Science Fiction Novel
Shortlisted for the Ditmar award for Best Novel
"Suited doesn't suffer from Flat Middle Book Syndrome – while it can't stand alone withoutDebris, it moves the overall arc of the trilogy along at a great pace. If you enjoyed Debris and haven't yet got your hands on Suited – what are you waiting for?"
– Mandy Wrangles, reviewing for Marianne de Pierres, author of the Parrish Plessis andSentients of Orion series
"With a surprisingly realistic heroine, flawed to the hilt as we are in real life, [Suited] is an intriguing story with a protagonist that is as compelling as she is frustrating, and a world that is as rife with danger as it is with misunderstanding."
– Elloise Hopkins
"Suited is a dizzying tour de force that's not really like anything out there. And that suits me just fine."
– Keith West, Adventures Fantastic
"Jo Anderton has written a unique series in The Veiled Worlds, on a world that has taken technology to the extreme. Suited continued to hold my interest every bit as much as Debris did. In other words, I couldn't put it down."
– MK at Popcorn Reads
"I've completely enjoyed the plot development and character background information. Similarly to Debris, the story moves in waves and waves, leading up to the final climax."
– Upcoming4.me
"Suited is a very good book. It packs in a lot of plot, but doesn't leave the reader behind. There are well written action scenes as well as subtly inserted exposition … Characterisation is strong and generally involving."
– Aussie Spec Fic in Focus
UK/RoW
5 Jul 2012
432pp B-format paperback
£7.99 UK
ISBN 9780857661562
US/CAN
26 Jun 2012
416pp mass-market paperback
$7.99 US $8.99 CAN
ISBN 9780857661579
eBook – available here
26 Jun 2012
£5.49
ePub ISBN 9780857661586
Read a couple of sample chapters here!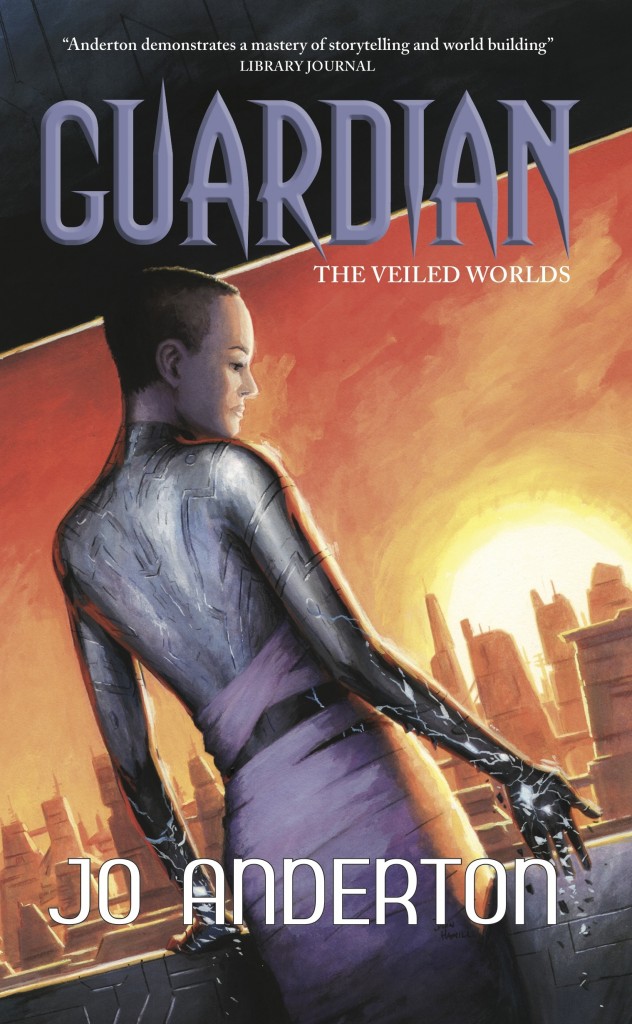 Guardian
Veiled Worlds Book Three
The grand city of Movoc-under-Keeper lies in ruins. The sinister puppet men have revealed their true nature, and their plan to tear down the veil between worlds. To have a chance of defeating them, Tanyana must do the impossible, and return to the world where they were created, on the other side of the veil. Her journey will force her into a terrible choice, and test just how much she is willing to sacrifice for the fate of two worlds.

"Deeply imaginative – a vivid fusion between science fiction and fantasy." — Tansy Rayner Roberts, author of the Creature Court and Mocklore books
Print RRP: AU$16.99 – available HERE
ISBN: 978-0-9922844-4-2 (print)
Ebook RRP AU$7.99 – available HERE
ISBN: 978-0-9922844-5-9 (ebook)