Today I am lucky enough to be visited by the wonderful Donna Maree Hanson. Her book Dragon Wine Book 1: Shatterwing is free in e-book for a short time. As part of spreading the word about Shatterwing Donna is doing a blog tour and offering a give away of a hard copy of Shatterwing. Winners will be drawn from people who comment during the blog tour. So leave a comment to be in to win.
Dragon wine could save them. Or bring about their destruction.
Since the moon shattered, the once peaceful and plentiful world has become a desolate wasteland. Factions fight for ownership of the remaining resources as pieces of the broken moon rain down, bringing chaos, destruction and death.
The most precious of these resources is dragon wine – a life-giving drink made from the essence of dragons. But the making of the wine is perilous and so is undertaken by prisoners. Perhaps even more dangerous than the wine production is the Inspector, the sadistic ruler of the prison vineyard who plans to use the precious drink to rule the world.
There are only two people that stand in his way. Brill, a young royal rebel who seeks to bring about revolution, and Salinda, the prison's best vintner and possessor of a powerful and ancient gift that she is only beginning to understand. To stop the Inspector, Salinda must learn to harness her power so that she and Brill can escape, and stop the dragon wine from falling into the wrong hands.
Dragon Wine Book 2 :Skywatcher, the follow on book is also available in ebook and print.
I asked Donna to talk about something close to my heart at the moment – balancing writing and life. So take it away, Donna!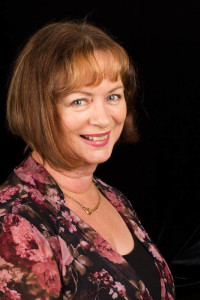 Thank you for having me on your blog Jo. You asked me to talk about balancing writing and my other life.
I'm not sure balancing is the word I'd use. It's sort of like binge management really. I binge with the writing and then I'm not writing, but absorbed in work. I also make hats and do craft and I binge with that too. I can't seem to keep it all on an even keel and do bits of all of them. I'm obsessed. Actually my work mate said that I was passionate. So I'm guessing that's me. I'm just passionate about a lot of things.
My day job can been seen as project work, research, then talking to people and then report writing. In the reporting stage I usually have no capacity to write fiction at home. I've given it all to the day job and there's nothing left. I usually don't go on the computer at all at this time. I just can't bear to look at the screen.
A complicating factor too is that I have developed RSI and arthritis in the neck and thoracic spine so it means I have to take breaks at work in the day job and at home. I believe the craft, the millinery in particular, has evolved from my need to take a break from writing. I used to knit but the arm issues sort of killed that. Millinery is a bit lighter on the body.
So when I do write, I have to be careful, not too long, correct posture etc. I now have a sit and stand arrangement which helps a lot. But I write fairly fast so getting that draft down is usually not too hard. Then I can tinker with the revisions and edits over a longer period. Lately though I've been a bit naughty. I'm working on more than one project. This makes life a bit complicated and I have found a bit unfocussed too. I had a bad period of RSI this year and that's affected how productive I was. I feel I've hardly written a thing all year. But I did do NaNoWriMo and got 50000 words down on a new novel. I had been dictating a project before then. Dictation is a nice safety valve for me. If I'm not in pain I can dictate. Or if I want to spare myself some typing dictation works.
So instead of getting near the end of the year feeling like I've done nothing, I have actually achieved something. I sent out a revised novel that I wrote last year. I also revised a novel I wrote the year before that. I'm still waiting to get beta reader feedback on that and then I'll finish with that revision. I've also go two partially drafted novels.
I'm moving to a new stage in my life too. I've been accepted for a PhD and I'll be doing that full time. So that will be the new day job. Lucky some of that involves writing a novel. Still I need to get some of these in progress jobs out of the way before February.
I should mention too that writing retreats usually work for me as a way to get a lot of drafting done. We haven't had a lot of those lately but instead this year I'm taking January off to write. For many years now holidays are opportunities to write. I'm thinking that's balanced but maybe it's not.
Now I come to the end of this post and I'm not sure I answered the question properly. When I decided to write, I gave up TV for starters. That liberated 5-6 hours a day. I was pretty intense with my writing passion for about 5 years and then I eased off a bit. I started spending more time with my family. Before that I spent a lot of time writing or reading in the pell-mell fashion I was used to.  I had to balance things out a bit and live life a little. I find I can balance my day job, my family and my writing. I don't write as fast or as long as I did before, but then I can't do that physically any more. As long as I can do what I have to do I feel happy with the world.
Thanks Donna, you know I think you're amazing. Finding a way to do what you have to do to feel happy with the world, is very good advice!